Sales leaders like to talk numbers, so here is the Mental Health cost of your sales team.
If your sales team consists of people aged 18-39, Mental Health is costing you at least:
$2,469 USD per rep / per year.

This means if you have a team of 10 reps, Mental Health is costing you:
$24,690 USD per 10 reps / per year.

The majority of these costs are due to presenteeism, which occurs when ongoing physical or mental health conditions prevent salespeople from being fully productive. It means burnout, anxiety, stress and declining mental health makes the salesperson less effective at selling.
Some of the early signs of presenteeism in sales show up in the following ways:
Fake dials.
Praying for voicemails.
Mistakes.
Less empathy.
Missed buying signals.
Less creativity.
Avoiding objections.
Less confidence.
Asking easy questions.
Higher anxiety.
Less enthusiasm.
A contagious unmotivated team.
Calling the easy clients.
Avoiding the Decision Maker.
Among countless others…
So next time you're evaluating a flashy new sales enablement technology that is claiming to make your team more efficient…
Ask yourself.
Will it solve all the problem areas above or should I start prioritizing a Mental Health solution instead? 
The Mental Health Cost & Lost Revenue of YOUR Sales Team
To help you get a full picture of how Mental Health is impacting your sales team, download the Sales Mental Health Cost calculator below.
You can enter your team size and revenue responsibilities to find out just how much revenue your sales team is leaving on the table each year.
Depending on quota size – your team could be missing out on hundreds of thousands – if not millions of dollars – in revenue.
Download Sales Mental Health Cost Calculator
Data for this post was taken from this article by the BBC which included research by Deloitte. The the first two columns in graph 4 were averaged and then converted to USD.
Keep in mind, this is not sales specific data and calculated using average workplace Mental Health numbers. The costs mentioned above are likely much higher for sales teams due to the greater prevalence of Mental Health challenges experienced by individuals working in sales.
About The Author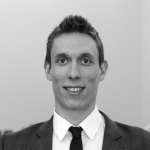 Jeff Riseley is currently the Founder of the Sales Health Alliance and Mental Health Advocate. With over a decade of sales experience – Jeff understands the importance of Mental Health in achieving peak sales performance.
Jeff combines his sales (Sales Knowledge Institute) and Mental Health expertise to improve sales performance through a mix of sales mentorship and mental health best practices. His strategies have helped sales teams improve their sales process, while helping them become more motivated, resilient and better equipped to tackle stressful events within sales.
He is currently delivering these strategies through on-site workshops, coaching and speaking engagements. To explore working with Jeff contact him at [email protected]