Ryan Hiscox – the Director of Sales – North America at VEND, spoke with the Sales Health Alliance. Below he shares his story and best practices for managing Mental Health in sales.
VEND is currently an inventory management and Point of Sale for SMB Retail. Ryan manages multiple sales leaders who have their own sales teams and he's responsible for overall revenue for the region.
Why do you think more awareness is needed around Mental Health as it relates to working in Sales?
99% of our business worth is judged by a monthly or quarterly number that is tracked daily and in real time. There is never a moment when you shouldn't be 'doing more'.
On top of that, sales quotas are always increasing and at the end of the day, we are constantly re-starting back at $0. The GAP is never ending, the work is never done and it is near impossible to separate your personal worth to an organization from revenue acquired.
When we start to associate ourselves with a $ value this can lead to many mental health issues, in and out of the office.
What has been your experience with mental health throughout your sales career?
My struggle has been around not allowing myself space to have bad months or quarters. I have been doing this for over a decade and it's inconceivable that you are not going to have bad months, quarters or even years.
However, the competitiveness, the team dynamic and the company goals dictate that we should never be off. We should never miss and if we do, we can always overcome it.
What happens if a loved one dies? A partner ends a relationship with you? A drinking problem arises? Depression? Who can you turn to in your organization for help when these things manifest themselves in your work?
When things like this happen to people, and they do every day, how do you have those types of conversations with your boss without flat-lining your career trajectory?
I ask these questions because they are real. I have asked many of them and many more like them during my career. Like every person working in sales,I consistently face mental health issues because life never stops and it always challenges you.
The biggest difference now is that today I have tools and resources to handle them when that stuff happens.
Who have been your biggest workplace influences around positive Mental Health?
My team members have been my biggest advocates. If you are lucky enough to find people in your organization who you trust, they are usually your best source of helping you identify and treat mental health.
During a typical day, week, month and/or quarter working in sales – What events at VEND do you see impact mental health the most?
When a sale comes in and or when the customer churns. Another challenging moment is when a customer wants to buy, but there is something that is company related, holding back the sale.
Starting at $0, 12 times a year.
When the company makes a job changing announcement and due to an error, the company does not take ownership of that error – instead it re-directs it back at the employees.
What are some of your best practices for maintaining your Mental Health while managing sales at VEND?
Workout before work every day, eat healthy and don't come in early or work too late. This helps make time for other important things in my life.
I make space for my emotions and I have a plan so I know what to do if I am angry or upset at work. I have created networks of people I trust that I can vent to and I see a therapist on a consistent basis.
Using all my vacation days for actual vacations where I do no work at all is also important. I work from home if I am not feeling mentally well or even take a mental health day, when I need it.
How do you talk about mental health at VEND and/or within your team?
I speak to my teams about this on a daily basis over 1 on 1's and team meetings. I'm also open about my mental health personal practices listed above.
What's the number one thing you would change about working in sales that would improve sales rep mental health? 
I would train sales leaders on how to identify mental health issues vs performance issues. Then give them resources to help salespeople (finding them therapy, coaching or quota relief / performance relief while in need).
The Sales Health Alliance would like to thank Ryan for sharing his story and best practices around Mental Health. You can checkout VEND and Ryan's LinkedIn profile by clicking the link.
More than 2 in 5 salespeople struggle with their Mental Health. For more best practices to help you improve your sales performance through better Mental Health – check out the course below.
Online Course: Improve Sales Performance Through Better Mental Health
About The Author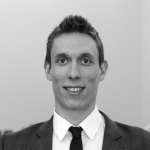 Jeff Riseley is currently the Founder of the Sales Health Alliance and Mental Health Advocate. With over a decade of sales experience – Jeff understands the importance of Mental Health in achieving peak sales performance.
Jeff combines his sales (Sales Knowledge Institute) and Mental Health expertise to improve sales performance through a mix of sales mentorship and mental health best practices. His strategies have helped sales teams improve their sales process, while helping them become more motivated, resilient and better equipped to tackle stressful events within sales.
He is currently delivering these strategies through on-site workshops, coaching and speaking engagements. To explore working with Jeff contact him at [email protected]