Scott Freeman is a Founding Partner at Bureau, a New Zealand Recruitment and Search Firm. He spoke with the Sales Health Alliance to share his story and best practices for managing Mental Health in Sales.
Bureau provides tools to make the recruitment experience easy, insightful and rich. They specialize in mid to senior level recruitment and executive search to help make sure companies are equipped for the present and future.
What is your role at Bureau?
As one of the Founding Partners, I'm responsible for leading and developing client relationships as well as conducting search assignments.
Having previously been a GM Sales with P&L and strategic responsibility, I have sat in the shoes of many of the leaders I now work alongside. This is has given me a more enriched and empathetic view when undertaking searches for GM and senior sales & marketing candidates.
Why do you think more awareness is needed around Mental Health in Sales?
Many people 'fall' into the profession and are unequipped to face the stress and pressure that comes in the role.  It is a profession which can be emotionally draining and where you are expected to be 'on guard' all the time.  There is a lack of training in both sales skills and 'building resilience' in New Zealand so it is often left to an individual to learn through experience – the road to resilience can be shortened.
What has been your experience with Mental Health throughout your Sales career?
When I first started, I received some excellent sales training around questioning, negotiating, closing etc, but there was no discussion of resilience, mental health and how you to look after yourself.
The challenges have been around valuing myself and getting through periods where my results weren't as I hoped.
As a younger sales person, I didn't deal with slumps that well. I just kept working hard but didn't receive any coaching around building resilience. When I came to New Zealand I was lucky that I joined great company which valued training in resilience and had very supportive networks.
Who have been your biggest workplace influences around positive Mental Health?
I have a supportive network of colleagues and clients who talk about it openly.  I've also engaged external coaches most years to ensure I've got external professionals to bounce off.
I've also been exposed to The Resilience Institute in New Zealand. They have some great tools and advice related to Mental Health.  I'm also a member of the Sales Syndicate which is group of sales leaders who meet monthly to learn from and support each other. Ron Friedman is someone who produces good advice as well.
During a typical day, week, month or quarter working Sales – What events impact your Mental Health the most at Bureau?
Things going wrong at the last minute and there are a number of things outside of your control.
In recruitment, we are reliant on people in many areas and they don't always do what they said they would! Deals falling over can be stressful, but there should always be enough in the pipeline to ease the pain!
What are some of your Best Practices for maintaining your Mental Health while working in Sales at Bureau?
I use all of the following strategies on a frequent basis to ensure I'm taking care of my Mental Health.
Exercise – a mixture of cardio, strength and stretching.
Meditation and practicing mindfulness.
Healthy eating and taking supplements to support my nutrition.
Spending quality time with my family and regularly catching up with a small group of mates.
Jounaling. This includes reviewing the day, setting intention and practicing gratitude
Celebrating successes – sales can be challenging and celebrating even the small wins is important.
Planning my days, weeks and sales targets in advance to ensure I'm prepared and not worrying where sales are going to come from (often a big stressor in many salespeople).
Maintaining a 'long term' mindset. Always having a yearly and 5-year goal helps me keep perspective and understand challenges are part of the journey.
Doing the things I love such as playing football (soccer!).
How do you talk about Mental Health at Bureau?
We've worked with each other for a while so we're quite attuned to it. We know if someone needs help and we're very open about what we've got on. Having a trusting, open and supportive culture is key.
It takes work and good leaders to achieve this.
What is the number one thing you would change about working in Sales that you think would improve Sales Rep Mental Health the most?
Training and coaching on mental health and resilience right from the beginning.
Sales organizations need to get better at giving those who enter the profession, better tools and techniques. This includes raising the importance of a holistic approach which raises the importance of exercise, relationships, nutrition and learning.
The Sales Health Alliance would like to thank Scott for sharing his story and best practices around Mental Health.
You can learn more about Bureau here and view Scott's LinkedIn profile by clicking the links.
More than 2 in 5 salespeople struggle with their Mental Health. For more best practices to help you improve your sales performance through better Mental Health – check out the course below.
Online Course: Improve Sales Performance Through Better Mental Health
About The Author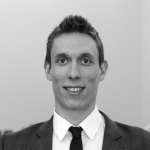 Jeff Riseley is currently the Founder of the Sales Health Alliance and Mental Health Advocate. With over a decade of sales experience – Jeff understands the importance of Mental Health in achieving peak sales performance.
Jeff combines his sales (Sales Knowledge Institute) and Mental Health expertise to improve sales performance through a mix of sales mentorship and mental health best practices. His strategies have helped sales teams improve their sales process, while helping them become more motivated, resilient and better equipped to tackle stressful events within sales.
He is currently delivering these strategies through on-site workshops, coaching and speaking engagements. To explore working with Jeff contact him at [email protected]